Physical Security
Physical security is the core of any business or organization. It ensures the safety of an organization's equipment, the premises, and all its information. However, current companies are often ill-equipped to secure their buildings and utilize pertinent business information.
Van Ausdall & Farrar specializes in Physical Security, and our skills and expertise are dedicated to planning, developing, installing, and administering your complex physical security strategy.
Physical security helps to protect building sites and equipment from unauthorized access. This encompasses safeguarding all information and software contained for a particular company. Physical security involves using multiple layers of interdependent systems, including CCTV surveillance, access control, deterrent systems, and perimeter intrusion detection.
Why Your Business Needs Physical Security
Having well-established physical security is essential for your business. This will allow smooth operations of your business activities without any intrusion or access by unauthorized personnel. Further, this guarantees the safety of all your information.
Van Ausdall & Farrar works with some of the most incredible solution partners in the Gartner Magic Quadrant. As IT professionals, we constantly assess our collaborations to guarantee that our clients receive services from the full spectrum of options. Businesses trust Van Ausdall & Farrar throughout the Midwest with their unique and developing needs.
We can also partner with you to show you how you can secure your organization and best utilize your business information.
Benefits of Physical Security
While these additional security procedures are not the only safeguards when attempting to secure an information system, they are a sensible place to start.
Before carrying out the physical security measures at your organization, it is imperative to do a risk assessment to identify current threats and risks in your security plan and then figure out how these can be eliminated. Having the proper tool set in your organization can counter the likelihood of intrusions or loss and help streamline your business' functioning in the long run.
Providing Your Business with What It Needs
Defining your needs and goals helps ensure you are not oversold or undersold the crucial security services you need.
Numerous benefits of physical security help safeguard and ensure the smooth running of your business, including:
Access control
Safe locks
Intrusion detection
Protective barriers
Mail Security
Vulnerability Scanning
These systems generally enhance security in your organization by deterring potential intruders with warning signs and perimeter markings. Physical security systems also help to detect intrusions through intruder alarms and CCTV systems. Further, these systems trigger appropriate incident responses through security personnel (guards and police).
Therefore, as you set up your business, it is paramount to balance security controls against risk, considering the costs of specifying, developing, testing, implementing, monitoring, and maintaining the controls.
Physical Security from Van Ausdall & Farrar
As the Midwest's leading full-service business IT supplier, you can be confident that you are obtaining the best solutions. We provide technological services to clients in the insurance, construction, engineering, and healthcare industries. Our services extend to Indiana's state and municipal governments, manufacturing, logistics, and real estate industries.
Van Ausdall & Farrar's engineers are seen as highly respected, technical service providers, as well as being able to provide trustworthy services for your business needs. Our crew is well-versed in physical security requirements for your company and has extensive competence in this area. Unlike most other technology service providers, Van Ausdall & Farrar retains talented experts by recruiting experienced professionals long-term.
Contact us today to learn more about the advantages of physical security for your company or business.
Solutions to Assist You in Adhering to Compliance Rules
Your firm must comply with the law in all areas and facets of your business… Van Ausdall and Farrar's physical security solutions help your company comply and increase safety, confidentiality, and integrity.
Physical Security Solutions for Small & Large Businesses
Our expertise at Van Ausdall & Farrar can assist you regardless of the size and scope of your physical security solutions. We recognize the need for a dependable physical security solution that includes infrastructure and integration for a smooth corporate operation.
Van Ausdall & Farrar ensures the security and continuity of service for all clients throughout the Midwest.
Any business requires administrative, technical, and physical control to streamline its organizational operations. Physical security's primary goal is to protect the assets and facilities of your business. The foremost responsibility of physical security is to provide safety for your staff since your workforce is an essential asset to your company. The safety of your employees should be the priority, followed by securing your facilities.
While physical security is usually overlooked, most businesses take care of security's technical and administrative aspects. The implemented security will be of no value if an intruder can access and steal the assets or crucial data.
Our services include:
Video Surveillance Cameras and Management
Sound Masking
Turnkey project management, programming, installation, and 24/7/365 support
Hardware as a Service (HaaS) program offerings to minimize operating expenses
4K HD Cameras with advanced infrared technology to "see in the dark"
Rapid Body Temperature Detection Systems
Today's businesses and schools require fast, efficient and accurate systems to help them rapidly check the health of their workers, students, attendees and customers, as they enter your facilities. These organizations are turning to temperature detection systems to rapidly check for a possible fever. Although these systems are easy to operate, our experience is you will have many questions before and after you purchase a system. We are here to help guide you through this process so you can make the right choice.
Touch-Less
Our Personnel Management Solutions feature check-in and temperature verification capabilities. Designed to help protect the health and safety of both employees and guests detecting anyone with a temperature that is entering a facility.
Configurable
The solution can also be programmed for facial identification, with users easily added in a few short clicks. Additional features include configurable audible alarms and messaging capabilities.
Fast Support
Van Ausdall & Farrar's full support services include instant replacement, remote support and upgrade support, as well as, setup, configuration and training support.
The Kiosk is easy to setup and touch-free for individuals that approach it to take their temperature.
Temperature Kiosks are easy to get ready to use.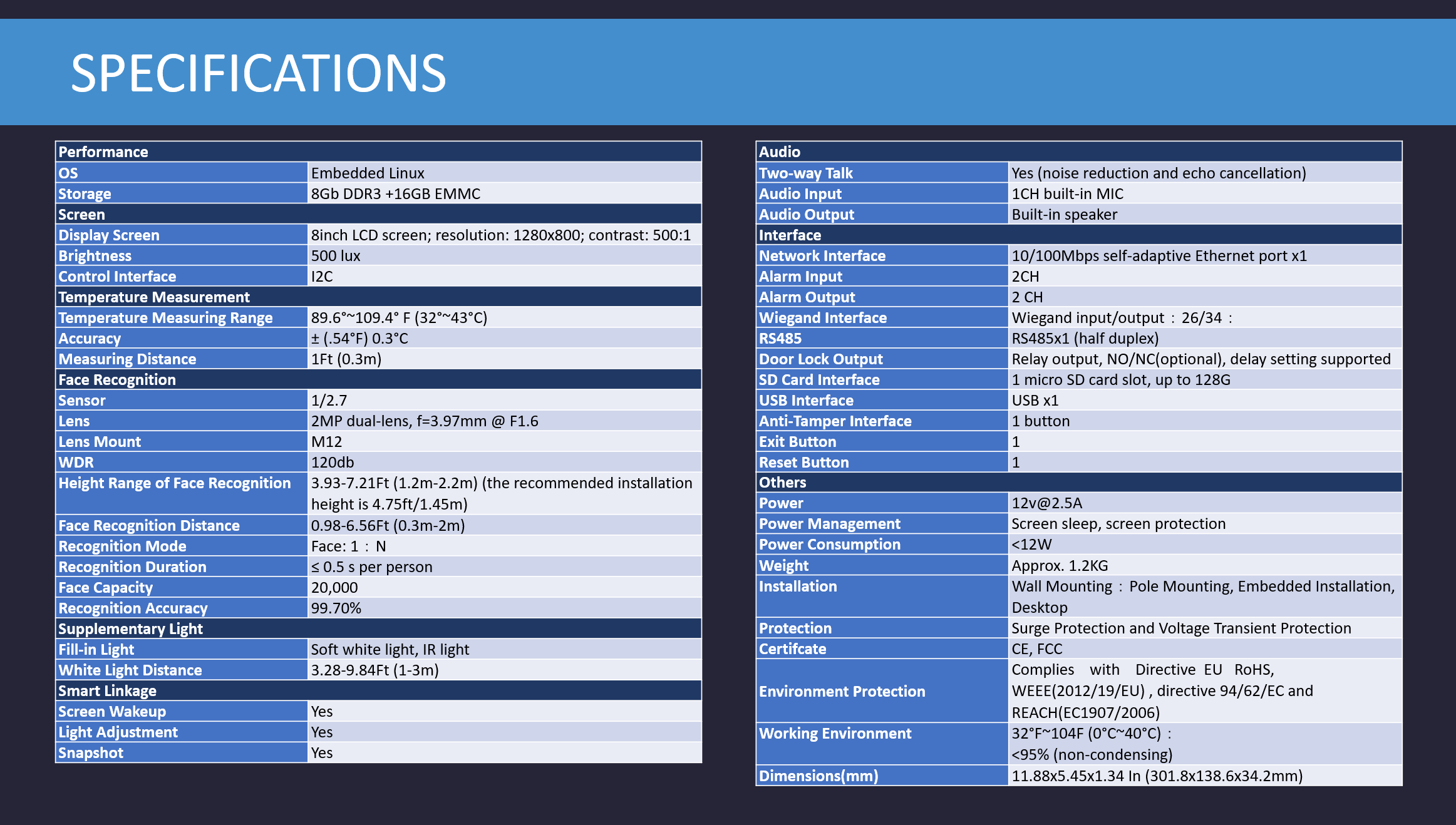 Schedule an Appointment Today
If you're interested in learning more about how our information technology solutions can help your business grow and stay protected, don't hesitate to reach out to the technology professionals at VAF today. Contact us to schedule an appointment.